FML Film Night - Daily MCU Marathon Screening!
Mar 21, 2020, 8:13am PDT
Edited
TONIGHT - ENDGAME (2019) - In an effort to cheer everyone up, keep spirits up, and give us something to do together, Film Night has changed to a DAILY event, every evening.
For the foreseeable future we will have daily film screenings. This may comprise of a short TV series or a selection of films based around a franchise or theme. We will aim for at least one film per evening. But may consider more depending on length.
So....our first theme/franchise is the whole MCU franchise.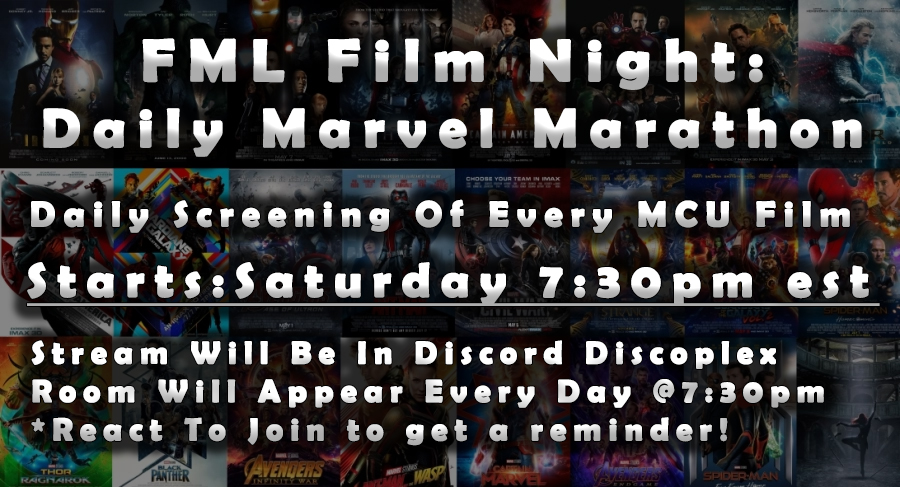 Streaming on Discord!
In another change to how we stream film night. Discord has now fully released it's streaming service. It is still in a test BETA mode but after a few test runs, the quality is impressive. So now anyone who has joined or joins the FML discord group, will be able to simply come into the Discoplex Theatre room and watch the stream. Downloading the discord app will be the best way to ensure you can see the stream.
If you haven't already join Discord via this link:

There are lots of other things to do on there.Lots of rooms to chat in.
Be There!
What is Discord?
Discord is FREE to download as an app on a windows PC/Laptop or Apple.

....................
START TIME
Film Night will therefore take place daily from this point forward with the room opening at 7:30pm est with the film starting around 8:00pm.
EVERYONE IS WELCOME at any point during the night. We normally try to watch two films each evening depending on length.

16 Replies
Reply #1

They even got me to join!

Okay, fine, there's actual cool people too. You happy now?

Mar 21, 2020, 10:22am PDT

Reply #2

Nos, I signed up for Kast early Saturday morning. Now, you're telling me I have to sign up for Discord? 🙁

Mar 22, 2020, 8:08am PDT

Edited

Reply #3

Yes, @m8


It's worth it in the fact that the chat platform is much better.


Also, based on tests thus far, the quality is much higher.


The quality is the key thing. I would have been more hesitant swapping from kast.


Kast has some benefits. But discord at the moment is proving to be a far better platform.

We are on the Third Film of the series tonight which is:

IRON MAN 2


See you there!

Reply #4

TONIGHT - Fourth Film of the Series:





THOR (2011)





Join Us on Discord Streaming - Instructions Above


Mar 24, 2020, 2:49pm PDT

Edited

Reply #5

Tonight, Film 5 in the series:





Captain America: The First Avenger (2011)





Join Us on Discord - Instructions above!


Reply #6

Tonight - Film 6 in the franchise:





AVENGERS (2012)





Join Us on Discord - See Instructions above


Mar 26, 2020, 12:30pm PDT

Reply #7

Tonight - Film 7 in the franchise:





IRON MAN 3 (2013)





Join Us on Discord - See Instructions above





Popcorn available in the foyer




Cinema pre-show and 2013 trailers shown before film.





Cinema opens at 7:30pm est, Screening starts around 8:00pm est


Mar 27, 2020, 3:30pm PDT

Edited

Reply #8

Mar 27, 2020, 9:30pm PDT

Edited

Reply #9

Mar 27, 2020, 9:30pm PDT

Edited

Reply #10

Tonight - FILM EIGHT in the franchise:





THOR: THE DARK WORLD (2013)





Join Us on Discord - See Instructions above





Popcorn available in the foyer




Cinema pre-show and 2013 trailers shown before film.





Cinema opens at 7:30pm est, Screening starts around 8:00pm est


Mar 28, 2020, 3:08pm PDT

Edited
Add Reply