BSwhite & Walter White's Message To FML
FMLverse -

The White's, BS and Walter, have a message for all those who didn't screen the 2x blank Cineplex this week: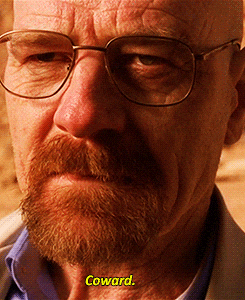 Good luck to all the double blankers out there!
32 Replies
Reply #1

Reply #2

Brave souls get the glory! I only went 3xupside 2 x spidey and 3x BR...let the games begin

Reply #3

Reply #4

No signs of frontloading in the ticket sales, an audience that was underserved over the holiday frame, good counter-programming to the NFL Divisional Round ...


Prediction: Upside lives up to its name and dethrones Aquaman this weekend.


The difficult question for me wasn't whether to blank or not to blank, but what to put in that 6th slot. Vice took a decent hit with theater counts, Replicas lurking, expansion for Bealle St, and yet, BhoRap may drive some FMLers bonkers one more time.

Reply #5

Yeah, went BoRap on the 6th to be contrarian in hopes of a more elusive PC

Jan 11, 2019, 11:26am PST

Reply #6

Jan 11, 2019, 11:32am PST

Reply #7

@mem has the right idea. I have The Upside with an astounding 22 million this weekend! I wish all who didn't play it good luck...

Jan 11, 2019, 11:49am PST

Reply #8

Jan 11, 2019, 12:27pm PST

Reply #9

@kevboats

Damn it, I can't upload a GIF or picture to save my life on here...

Jan 11, 2019, 12:28pm PST

Reply #10

Deadline has Upside at 17.9M beating Aquaman by 100k!
Add Reply