Introducing FML's Cineplex Builder
Oct 12, 2018, 12:48pm PDT

The FML Cineplex Builder has landed, and it's one of our biggest updates to FML to date. The Cineplex Builder allows you to:
Better analyze a movie's performance
See the Best Performer
Quickly see all the cineplex combinations you might want to play
The Slider


Simply slide up or down on what you think a movie will do at the box office this weekend. The Cineplex Builder will highlight the value category.
Good / Poor
Great / Bad
Excellent / Terrible
Blockbuster / Worst

Remember, these categories are based on the Return on Investment based on the movie's pricing. Use your $1,000 FB wisely each week.
Apply to League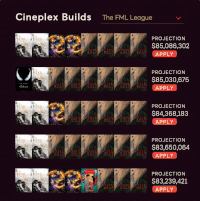 Once you've adjusted each movie you can easily apply any combination to your league. If you're in a lot of leagues with unique rules and scoring you can quickly update and see how the rules impact your picks.
Best Performer Rankings

The all important Best Performer rankings are clearly located at the top of the Cineplex Builder. Next to each of the Top 5 movies there's a performance indicator displaying the Revenue per $FB dollar spent on each movie. You can fine tune and adjust any movie in the slate to see what it will take for any movie to be the week's BP (Best Performer).
Expanded View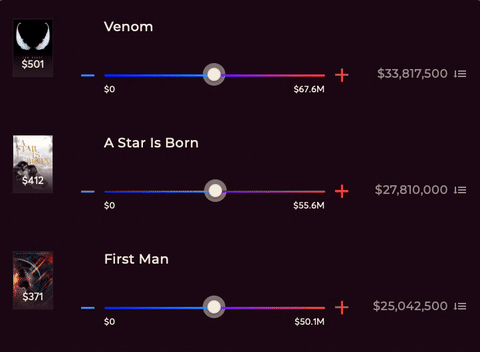 Clicking the Expand icon displays greater detail about the movie and how it performed last week.
Feedback

We've been hard at work on the Cineplex Builder for some time now and hope it will help improve your performance in FML. Let us know what you think in the comments below!
41 Replies
Reply #1

Yayyy! Can't wait to try it out next week!

Oct 12, 2018, 12:58pm PDT

Reply #2

Reply #3

Reply #4

Oh man, that cineplex builder is gonna help for the landmine league soooooooo much :)

Reply #5

Is there a way to share lineups?

Oct 12, 2018, 1:03pm PDT

Edited

Reply #6

Fantastic stuff here FMLQA. Love it.

Reply #7

YAAAAAAASSSSSSSSSSSSSSSSSSSSSSS

Reply #8

One note, it doesn't look like the builder is updating the lineups on the right when you adjust values for each movie by typing or copy pasting them in. Only if you move the slider.

Reply #9

I can't believe FML would condone cheating like this.




Reply #10

So how do I copy and paste in bulk from my spreadsheet?
Add Reply