Fall 2018 FMLympics! The Side Game Side Game!
Sep 11, 2018, 9:06pm PDT
Edited

The inaugural season of the FMLympics was a rousing success! I'm excited to move forward into the fall season with additional games, more participants, and more fun! Congratulations to @furiosa on his Summer 2018 victory!

You can find the ceremony at this link if you missed it! https://docs.google.com/presentation/d/e/2PACX-1vTmhxJyioaUTs7odinLMbPg-wrX146jgLg-fLvvmKFzO-WKLp6xejuCdEkn22Bpydop62jMKT3IsErn/pub?start=true&loop=false&delayms=5000

It's already a week into the fall season, but most side games have very reasonable penalties for missing a week if you want to get into them now! I'll have a list of all the eligible side games in the first comment of this thread including the time they lock!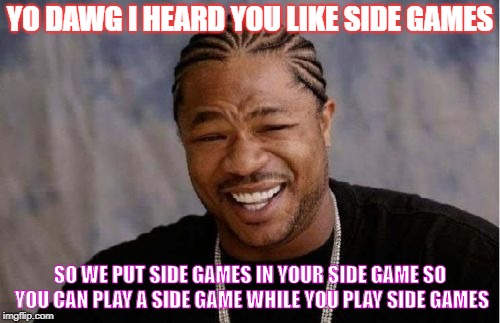 In this side game, I ask absolutely nothing additional from you. I'll be going around to the weekly side games in progress and drawing various stats from those. From winning games on a weekly basis to achieving significant milestones (Imperfect Cineplexes and Monday Night Cineplexes among other things), there are a lot of different ways to earn points. There is a comprehensive scoring guide in the attached spreadsheet.

Additionally, for anyone that wants to participate in all of the side games, that's awesome and every point you can scrape together will count! However, for those that simply don't have the time or capacity to manage all 11 side games, a separate scoreboard will be kept that only counts a person's top 3 side game scores. Go wide on all the games, or go big on just a few!

In the following link, you can find the stats for the current season (Fall 2018) as well as for Summer 2018, All-Time, and the Pre-FMLympics period on their own tabs. See how you stack up against the best of the best and your friends as we all strive to be a little bit better at everything than everyone else. Good luck, everybody!

https://docs.google.com/spreadsheets/d/1Dho6U7I509k97qjp-NxAZQ1nuiAbtrWk5hunySUq86o/edit#gid=1233241792

Graphics courtesy of @clever!
48 Replies
Reply #1

100 Screen Game:
Deadline Game:
FML Baseball:

Price Guessing: 8:00PM EST Monday
Monday Night Competition: 1:00PM EST Tuesday
FML Props Game: 10:00AM EST Friday
FMBL (Bowling): 12:00PM EST Friday
Prediction Competition: 2:00PM EST Friday
Hedging Competition: 2:00PM EST Friday
Power Ranks Game: 2:00PM EST Friday
Budgetopoly: 2:00PM EST Friday
Race to the Bottom: 3:00PM EST Friday
$0 Game: 1:00AM EST Saturday Morning
FML Golf: TBD each month!

Sep 11, 2018, 9:06pm PDT

Edited

Reply #2

After 1 week, as always happens, the best Power Ranks and $0 Scores have the lead. Here are the top 5 players across all games:

Rockinthe607: 45 points (8 games)
Particular Set of Movie Skills: 33.5 points (6 games)
Something Clever: 30 points (6 games)
Ari: 29 points (4 games)
Plexy: 29 points (8 games)


With the introduction of more games, I'm raising the restricted leaderboard from 3 games to 4 this season:

Rockinthe607: 38.5 points
Ari: 29 points
BB: 28.5 points
Something Clever: 28 points
Particular Set of Movie Skills: 26 points

Sep 11, 2018, 9:06pm PDT

Edited

Reply #3

Reply #4

So not all 19 points are mine to keep? How many are earned and how many are tentative for holding the lead in PR?

Reply #5

They are yours until they aren't! 15 points are "tentative." Last season, the leader in this category did not change after week 3.

Sep 12, 2018, 8:56am PDT

Edited

Reply #6

Ah, yes, the days when I was the leader...lol

Reply #7

@plexy Hi I am on the summer 2018 tab as both d1ucant4get and see you soon, sorry for any confusion this may cause.


THANKS for tracking all of this, Your dedication is unreal. I would have called it after the first week. :-)

Reply #8

@sys Fixed! No worries! I knew things like that were bound to happen.

Reply #9

Finally got the week 2 points all situated! BB and IYSSSS remain at the top with their season best scores in the Power Ranks and Zeroplex games. Meanwhile, 27 people were added to the season's leaderboard thanks to strong early showings in Bowling!

Sep 21, 2018, 11:30am PDT

Reply #10

It's been a few weeks! Scores are up to date minus week 6's RttB. Two of last season's top 3 are still outside of the top 5 this season: previous champion Furiosa sitting at 9th right now, while Exxdee is one spot out at 6th.


BB and IYSSSS continue to lead the charge thanks to their season-best scores in Power Ranks and $0 game, but the field is gaining on them.


Secondly, there's a strong chance that I will remove Bowling from the FMLympics lineup next season. It's by far the most difficult for me to track the points for. It's the most similar to the actual game (to the point where there is barely any strategy required that differs from the actual game). This is not 100%, but is a very strong consideration at this point in time.

Oct 17, 2018, 11:31am PDT
Add Reply